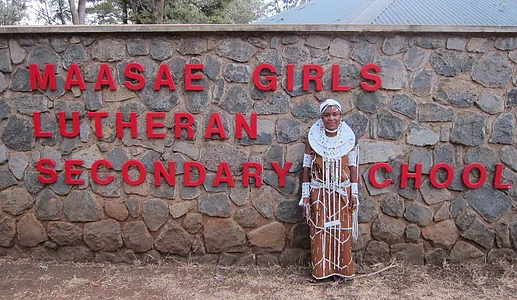 PROJECT
Supporting Girls' Education
---
Operation Bootstrap Africa supports girls' education by building and providing resources for numerous primary and secondary schools in Tanzania, Madagascar, and Kenya; as well as through a first-of-its-kind residential school for girls–the MaaSAE Girls Lutheran Secondary School (MGLSS).
MGLSS was founded to provide an opportunity for secondary education for the daughters of the Maasai and other semi-nomadic people of Tanzania. Today, 360 girls from mostly rural backgrounds are part of this nurturing and supportive educational community. In 2020, MGLSS celebrated its 25th anniversary, and in that time more than 800 girls had graduated from the school. Most of those graduates have gone on to achieve a college education, surpassing the educational level of 97% of Tanzanians. Among our graduates are doctors, nurses, teachers, architects, city planners, wildlife conservation specialists, pilots, and more. These young women are using their education to build a better Tanzania for future generations.
Other schools in Tanzania that OBA supports through scholarships and special projects include Olarash Primary School, Olchoki Primary School, and Moringe Sokoine Secondary School.
In Kenya, OBA has partnered with a rural community near the Ugandan border to build and renovate classrooms for Best School Academy, while in Madagascar we provide teacher salaries for the staff of five primary schools in some of the most remote, and poorest regions of the country.
In addition to these schools, OBA provides a scholarship fund for women pursuing post-secondary education, whether at a university or a technical or community college.