PROJECT
Funding Healthcare Training and Projects
---
While OBA's founder, David Simonson, focused his development efforts largely on education, his wife, being a trained nurse, also saw another great need in Tanzania. During their time as missionaries, Eunice began treating the ill and injured out of their home, hoping to alleviate some small part of the immense healthcare gap in the country. After founding the organization, Eunice, David, and Operation Bootstrap Africa worked to fundraise for and build hundreds of rural clinics and dispensaries in Tanzania.
Today OBA partners with a number of healthcare organizations in Tanzania. We support programming at the Arusha Lutheran Medical Centre (ALMC) and Selian Hospital in northern Tanzania, as well as at Plaster House – a pediatric rehabilitation center for children undergoing surgeries or other long term care who aren't able to safely and healthily recuperate at home.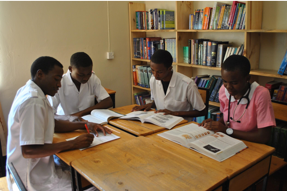 In addition to supporting and providing healthcare facilities, OBA also works to address the lack of skilled health care providers in Tanzania. Including doctors, nurses, midwives, and health aides, there are only 5 providers in Tanzania for every 10,000 people. In 2015, OBA partnered with ALMC and Dr. Mark Jacobson to start a nursing school which helps to fill some of this need. The ALMC School of Nursing provides 1, 2, and 3 year training programs for students pursuing degrees or certification in the fields of midwifery, community health, social work, and nursing. OBA provides a scholarship fund for the ALMC School of Nursing which subsidizes the cost of tuition for all students, and creates greater access to healthcare education.