John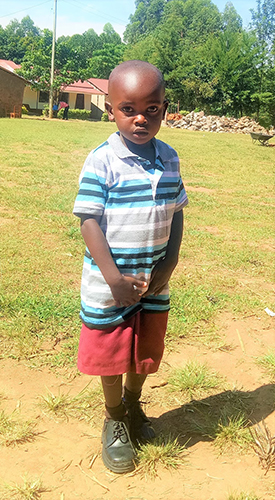 Age: 4
Hometown/ Village: IKOLI VIILAGE

---
JOHN IS A RESIDENT OF IKOLI VIILAGE,MALAVA SUB-COUNTY IN KAKAMEGA COUNTY. HE HAS THREE SIBLINGS AND HE IS THE THIRD BORN IN THE FAMILY
-WHILE AT HOME HE HELPS IN CLEANING THE HOUSE AND FETCHING WATER FROM THE RIVER. HE ALSO LIKES PLAYING FOOTBALL WITH HIS PEERS IN THE VILLAGE
-JOHN WOULD LIKE TO BE A DOCTOR WHEN HE GROWS UP SO THAT HE CAN SAVE PEOPLE'S LIVES FROM CORONA VIRUS
-THE PARENTS ARE PEASANT FARMERS PRACTICING MIXED FARMING. THEY BOTH LIVE IN A SMALL SEMI-PARMANENT HOUSE.
Sponsor John today with a one-time donation of $360 or $30/month for 12 months.