Glory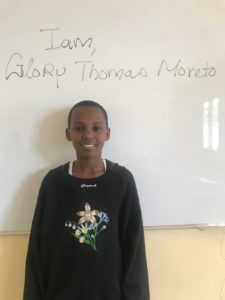 Age: 13
Birthday: 8/27/2007
Hometown/ Village: KIHONDA MANYUKI-Morogoro district (MOROGORO region)

---
Glory's father is a pastor and her mother does small business. There are 4 children in the family: all are girls. Glory is the 1st born and she went to MIEMBENI Primary School.
She wishes to be a doctor in her future. Her favorite subjects are Chemistry, Physics and Biology. Her favorite games are netball and football.
Other people living with Glory's family are her grandmother, aunt and cousin. Glory helps with home chores like sweeping the house, washing dishes, cooking and washing clothes.
Sponsor Glory today with a one-time donation of $1,100 or $92/month for 12 months.