Doreen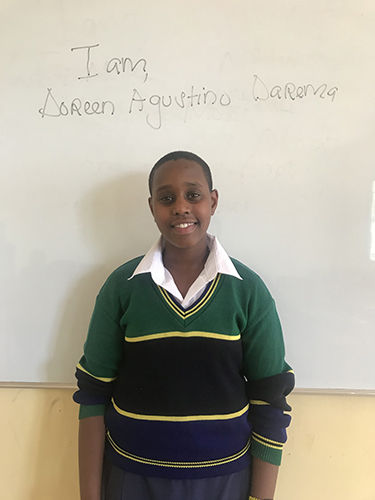 Age: 14
Birthday: 2/16/2006
Hometown/ Village: KIBAYA-KITETO district (MANYARA region)

---
Doreen went to LAALAKIR Primary School.
Her father is married to one wife. Her parents do small business to earn a living. She has 5 siblings: 1 is a girl and 4 are boys. She is the 6th born.
She wants to become a doctor in her future because she wants to help her community. Her favorite subjects are Physics, Biology, Chemistry, Geography, Math and English. Doreen likes netball and basketball.
Other people living with her family: her cousin. While at home, Doreen helps with farming, mopping, washing dishes, and washing clothes.
Sponsor Doreen today with a one-time donation of $1,100 or $92/month for 12 months.